Showing 0 0 - 1 0 of about 30 files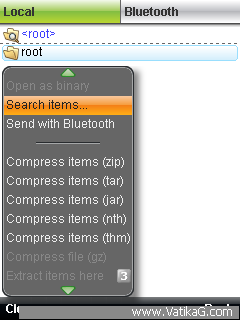 Bluetooth file transfer
Category : Miscellaneous >> Symbian s60v3 softwares
Get this : Download for free
Description : Main features:works on almost all phone models with midp 2.0 and cldc 1.1 support, using a single jar file easy to use, fast and straightforward user interface (gui), powered by medieval gui system complete touch screen support with built in double click event implemented shortcut keys improves user usability and speed up your gui experience unique fullscreen mode (press [0] key), to remove top bottom bars and enlarge working area cool and intuitive menu system (press [7] or [menu] key) to execute extended functionality multiple files and folders selection (press [ ] or[ ] key), to transfer delete many items at once select all, select none and invert selection options available search files rapidly and accurately, on both local and bluetooth filesystems, using customisable parameters navigate on both local and bluetooth filesystem using a single keypress (press [5] or [fire] key) download upload items from to any device with obex ftp support (almost on all phone models) you can also send files using obex opp profile (available on all phone models with bluetooth) ability to cut copy and paste files between devices and or to manage local filesystem edit file or folder attributes to enable or disable read, write and hidden status flags open view the content of some files using the internal viewer (both local and bluetooth filesystems) powerful internal image viewer with zoom in & zoom out features using a fast and smooth scale filter you can open text, image, audio and video files with the internal viewer get files and folders informations on both local and bluetooth devices create new folders on both local and bluetooth filesystem rename items or get volume informations (local filesystem only) you can add or remove a memory storage, without closing the program search for any nearby bluetooth device and read its informations bookmark list allows you to save your favorite device without searching it again very long file and folder names are scrolled on the screen using marquee technique integrated help system that shows the a b c of this product built in error system with detailed explanation message signed with both verisign and thawte certificates multi language user interface.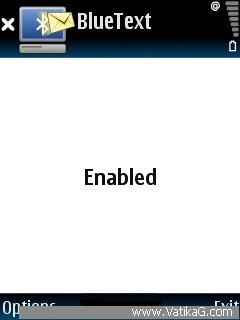 Bluetooth sms sender
Category : Miscellaneous >> Symbian s60v3 softwares
Get this : Download for free
Description : Ever faced a situation when your phone is connected to your personal computer of laptop via bluetooth and you need to send a sms to someone? imagine, your cell phone being the other end of the room and you are sitting on your chair in front of your computer and you just dont want to get all the way to the other side to get that phone. or, what is your option when you want to send a sms to your friend via your laptop computer? or what about if you want an incoming sms alert on your pc or laptop when your phone is connected to the pc? are there really any easy, cheap option?so far there was none and that is why i am making this post today because guess what? sending sms via your pc just got a whole lot easier and cheaper, free psiloc blue text is a premium sms or short messaging service based application which will let you send sms from your computer without any hassle through a very easy to understand and use graphical interface. while sending bulk sms is not really the work of this sms but i can imagine a lot of small and medium sized business organization already using it to send their user base a cheap, push based sms from their office pc without incurring any cost.for using this s60 based application psiloc blue text efficiently, you will need a bluetooth device which can be anything of your choice. most people nowadays are using blue soleil bluetooths as it is both cheap and effective, plus it supports a wide range of operating systems of symbian. all you gotta do is to install this symbian sis application on your phone and the exe application on your computer, then simply pair your phone to the computer using bluetooth and voila you are done with psiloc blue text you will be able to achieve efficiency in your work for sure some highlighted features of this mobile application are:1. it provides you with an instant alert on the computer when an incoming sms arrives (like an alert pops up when you are signed in msn messenger and a contact comes online)2. if you click on that alert it will display that sms on the pc, without you ever touching the phone.3. if you want you can choose to reply to that sms instantly via your pc or laptop, again without ever touching your nokia symbian smartphone, pda or even your pocket pc.4. or, you can choose to just ignore that alert and check the sms later on your phone at your sms as it always keeps a back up of every sms on your latest nokia smartphones.5. easy navigation and smart one click disable enable option.nifty eh? i know i always needed such an application for all my sms related issues and solutions. often i find myself doing some work on the computer at work and an incoming sms disrupts all my concentration from the job at hand because i just have to get my phone from my pocket, unlock the keypad lock, click on show to read the sms which will lead me to the sms inbox of my smartphone and then finally click the navigation select key to read that sms. then if i want to send a reply i have to type the entire sms via t9 mobile dictionary on or for some of you who does not use t9,i can imagine you clicking each button four or five times to get a single word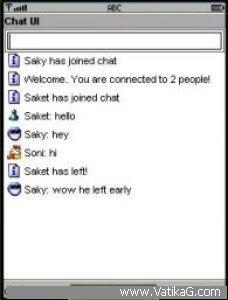 Chat2u
Category : Java softwares >> Free mobile softwares
Get this : Download for free
Description : A bluetooth group chat application(saket soni s msci fianl year individual project)the file has been updated to a new version. please be sure to update to this.the following network features are supported:1) system is able to recognise a device accidently leaving the network, e.g. from moving out of range or battery dying.2) if a device has application started and moves within range of a chat network, the discovery should automatically connect to the other devices. it will check every 3 minutes.3) the system is able to with stand interuptions, e.g. from incoming calls, and should be able to receive all messages on resume.the application features that are already incorporated:1) user names and icons2) view list of all users currently in chat network3) edit username and icon from user settings 4) scrolling feature on chat screen5) manually change number of lines on screen from application settings important notices: 1) please be sure that your bluetooth is enabled before running the application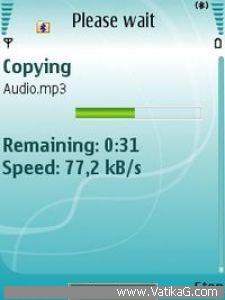 Bt file manager
Category : Java softwares >> Free mobile softwares
Get this : Download for free
Description : Application to browsing and copy files from other phones connected via bluetooth.languages: english czech slovak russian germa polish spanish portuguese serbian ukrainian arabic french italian lithuanianminimal requirements: cldc 1.0 midp 1.0 jsr 82 jsr 75if, when copying files from another device to your device the application write "could not write data to the target file." or when you try to open your files write "cannot open the folder" it is necessary to allow the application reading and writing files.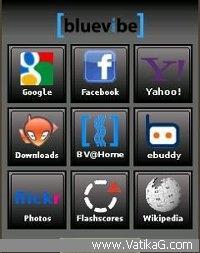 Bluevibe
Category : Java softwares >> Free mobile softwares
Get this : Download for free
Description : Use bluevibe mobile near a bluevibe hotspot and gain free access to the most popular mobile web sites like facebook, e buddy, gmail, yahoo and more bluevibe mobile uses your phone s bluetooth to communicate with the bluevibe hotspot and connect to the internet. when you are not near a bluevibe hotspot you can still use bluevibe mobile to connect to to the internet using wifi or gprs 3g.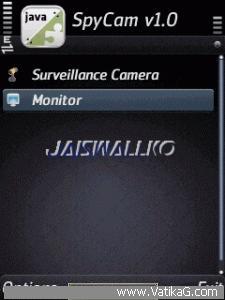 Bluetooth spycam
Category : Java softwares >> Free mobile softwares
Get this : Download for free
Description : 1. before you even start using this software, use the video formats feature in the main menu to check if the two devices to be used share any video formats in common. for example, if phone x has mpeg listed as a video format then phone y must also have mpeg listed in order for this application to work. if this is not the case then try another device.2. both devices must have bluetooth switched on and set to discoverable.3. first, select one of the devices as a surveillance camera. waiting for monitor to connect . should appear on the screen.4. select the other device as a monitor. the device will proceed to search for bluetooth devices in the vicinity. select the device which will be used as the surveillance camera from the list. connected to monitor should appear on the screen of the device which is to be used as a surveillance camera and connected to cam should appear on the other device.5. when the above steps are completed, you can proceed to record videos and send them instantly to the monitor device. below are explanations for each function found in the monitor menu: start recording: commands the surveillance camera to start recording (note: the actual video length recorded depends on available memory of the device in question). stop & play: commands the surveillance camera to stop recording. the recorded video is then played on the monitor. replay: replays the video clip that has been recorded. hide remote cam: commands the surveillance camera to hide the application from view. show remote cam: commands the surveillance camera to display the application on screen. close remote cam: commands the surveillance camera to close the application and disconnect the session just in case someone spots the device and decides to investigate ) set volume: sets the playback volume. save video: saves the recorded video on the device for later use. menu: disconnects the current session and returns to the main menu. exit: exits the spycammobile application.6. note: this application is not digitally signed therefore permission from the user is required to access the camera. it is therefore required that you record once and allow the application to utilize the device camera before placing the surveillance camera in its desired location. see below on how to set up the application permissions. the disconnect feature in the monitor menu disconnects the session.7. in order for you to be able to save your videos, allow for uninterrupted recording and bluetooth connection, the following application access permissions needs to be set:1. connectivity: always allowed2. multimedia: ask first time3. read user data: ask every time4. edit user data: ask every timesetting permissions:1. samsung: select applications from the menu.2. select java world.3. select spycammobile.4. select options.5. select permissions.6. set the permissions.1. nokia series 40: find spycammobile on your device and select it.2. select options.3. select application access4. set the permissions1. nokia series 60: select tools from the menu.2. select manager.3. select spycammobile from the list of applications.4. select suite setting.5. set the permissions.1. sony ericsson: find spycammobile on your device and select it.2. select more.3. set the permissions.note: this application records approximately 30 seconds of video footage due to the limited amount of memory that mobile devices have.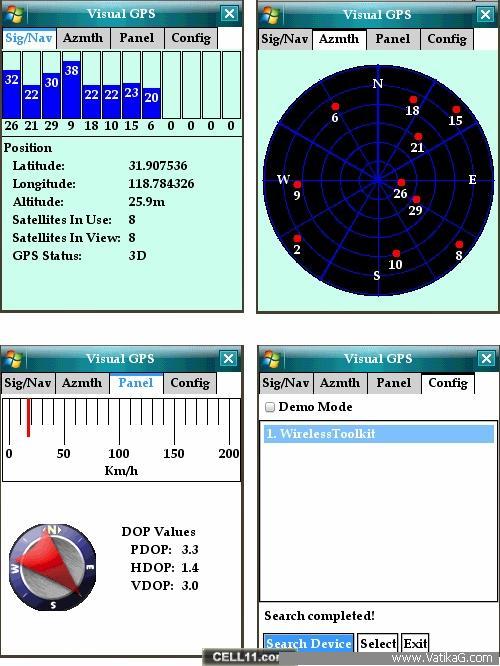 Bluetooth gps compass
Category : Java softwares >> Free mobile softwares
Get this : Download for free
Description : Bluetooth gps compass is a free j2me application that displays gps data graphically . features include satellite azimuth elevation, gps signal quality, analog gauges.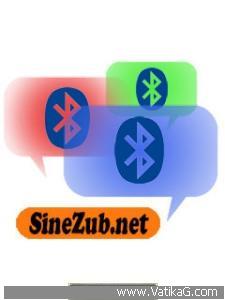 Bluetooth chat
Category : Java softwares >> Free mobile softwares
Get this : Download for free
Description : Simple bluetooth chat for mobile phones.in theory, restrictions on the number of users there. for messaging applications create several ad hoc network using a data transmission channel bluetooth. check in practice:)featuresapplication built on principle of dolls embedded into itself, and can transmit itself via bluetooth using obex file transfer.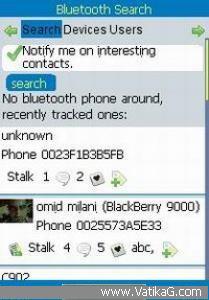 Blue spy
Category : Java softwares >> Free mobile softwares
Get this : Download for free
Description : Web 2.0 bluetooth app with comments, tagging & likesstalk devices and get notification when you re near them. or connect to facebook and see what you ve common with people around.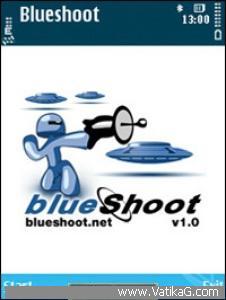 Blueshoot
Category : Java softwares >> Free mobile softwares
Get this : Download for free
Description : Blueshoot, a funny bluetooth messaging app from which you can send messages to other mobile phones, pda s, laptops or desktop pc s via bluetooth these dont have to have blueshoot installed, but bluetooth must be turned on. send a message to other phone s in your neighborhood. automatically send your message to predefined devices. in the spy mode you can wait for certain phone s and can get yourself alarmed. the device filter filters certain bluetooth appliances according to name and type.try blueshoot now, it is completely free
Showing 0 0 - 1 0 of about 30 files